Careers
Ready for a change? Browse our VSPE and NSPE career boards to make your next move.
EIT and PE Professional Accomplishment Scholarships
The VSPE Board of Directors and VSPE Educational Fund Trustees have developed a Scholarship program to reward members for passing the Engineering Fundamentals or the Professional Engineers licensing exams. More…
MathCounts
MATHCOUNTS has been working with middle school students to promote excellence in mathematics for over a 30 years. Learn more about MATHCOUNTS year-long programs, competitions, clubs - and volunteer opportunities.    More...
About VSPE
The National Society of Professional Engineers (NSPE) was established in 1934 to realize a simple but vital goal: create an inclusive, nontechnical organization dedicated to the interests of licensed professional engineers, regardless of practice area, that would protect engineers (and the public) from unqualified practitioners, build public recognition for the profession, and stand against unethical practices and inadequate compensation.
The Virginia Society of Professional Engineers (VSPE) was established in 1936 to facilitate that goal on a statewide level.
VSPE is the only dedicated professional organization that represents and protects the rights of Professional Engineers before the state licensing board and the Virginia General Assembly.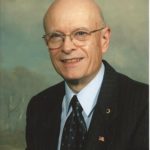 Honoring Raymond F. Powell
Raymond F. Powell is a long-time member of VSPE and currently serves as President of the VSPE Education Fund board of trustees. Last September, he was inducted into the Newton Pride Foundation's 2016 Hall of Fame, and we're proud to call him a peer and friend.  Click Here to see our letter honoring Ray.
Become a VSPE Member!
We are a three-level organization.  By becoming a member of the National Society, you automatically join your State Society, and your Local/Virtual Chapter.
Enjoy the benefits of NSPE/VSPE membership - Join Today!